AccuWeather is the leading supplier of customized, pinpoint weather warnings to large enterprises globally, serving more than half of the Fortune 500 companies and thousands of other businesses and government agencies globally.
In study after study, AccuWeather has been reconfirmed as the most statistically accurate source of weather forecasts and warnings. The most recent and comprehensive study of weather forecast accuracy ever undertaken ranked AccuWeather #1 in the categories of temperature, precipitation and wind speed—all categories tested—ahead of all other weather sources.
AccuWeather is a vital source for worldwide weather forecasts, data and meteorological services. We tailor customized programs based on each client's unique needs and draw upon our unique experience to help our clients build a tailored weather risk mitigation plan. These unique solutions are scalable to meet the needs of customers with local, regional, national or global assets.
Why AccuWeather for Business?
Saving lives, protecting property, and helping people prosper is what sets AccuWeather apart.
Download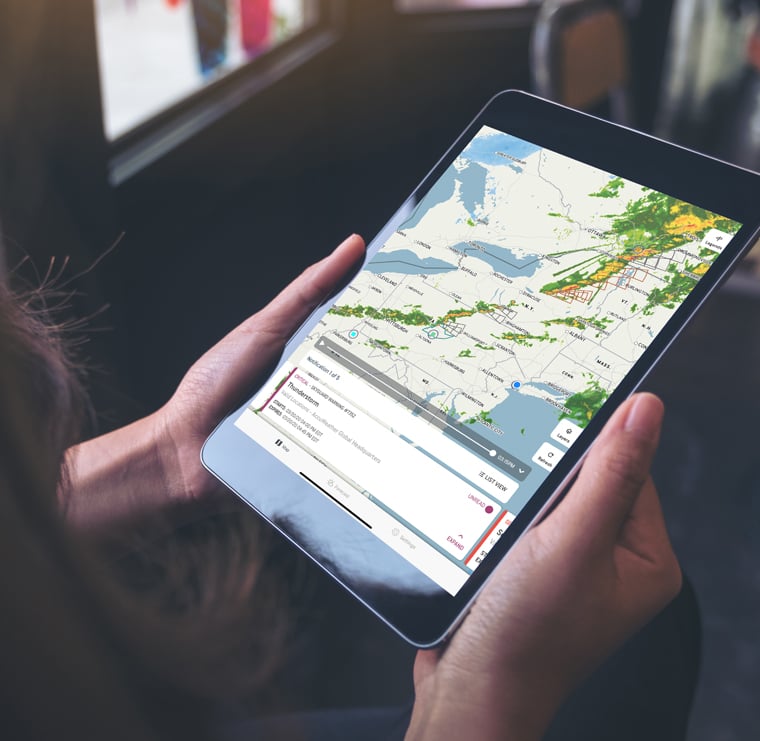 We know how weather impacts businesses
AccuWeather for Business delivers accurate forecasts and customized weather insights and real-time data to help business and organizations make the best decisions when weather is a factor.
Leverage data for any application
Serving a wide range of vertical industries, including construction, insurance, retail, manufacturing, transportation, logistics, energy, utilities, banking/ financial and many more, our business weather experts help companies translate weather warnings and forecasts into actionable business insights that save lives of employees and customers, minimize risk and liability, maximize efficiencies, reduce costs and increase profits.
AccuWeather for Business experts leverage data insights to support businesses in a myriad of ways, including:
Safety
Revenue & Profit Optimization
Business Continuity
Enterprise Risk Reduction
Supply Chain
Weather-triggered Marketing Solutions
Success through Superior Accuracy™ and personalized service
Many factors set AccuWeather for Business apart from and well above other weather services:
Highly Accurate, Pinpoint Weather

Warnings

Providing businesses with the most accurate, asset-specific weather warnings, prepared independent of government warnings by our meteorologists who are business weather experts.

On-Demand Consultations

Providing clear weather insights immediately to help make key business decisions. Rarely do such important decisions about life safety and financial impact need to be made in 30 seconds – in a severe weather emergency, these are precisely the decisions that demand immediate resolution and implementation, and AccuWeather experts are uniquely qualified, prepared and available 24/7 to help support such decisions with confidence.

Predictive Analytics

We understand the science of weather, which harnesses the power of complex, big data, and can provide analytics tailored to your business goals; all with AccuWeather's Superior Accuracy, allowing businesses to proactively improve their financial and operational performance in all weather conditions. By correlating up to 350 different weather parameters and decades of historical weather data with your sales or other operational data and translating them into custom, actionable insights, your business will be able to make the best business decisions. Analyzing the impact of weather behaviors, such as floods, hurricanes, blizzards, tornadoes, and hail, allows our clients to take advantage of both the positive and negative events to drive business results and mitigate risks associated with climate change.

Most Robust Global Forecast Engine

Our forecasting engine is led by an experienced team of expert meteorologists using proprietary algorithms and expert system modeling. It includes the largest data store of real-time foundational and highest-quality historical weather and environmental information available anywhere: surface observations from tens of thousands of locations globally, global lightning data, the largest set of global radar data, government issued weather warnings globally, satellite data from geostationary weather satellites covering the entire world, over 176 numerical forecast models, air quality observations, and much more.

Insightful Products

Providing best-in-class user experiences to ensure our actionable content is easily accessed and immediately interpretable on all devices.

Customer Service

Building deep client knowledge creates trust and a true partnership, driving an unrivaled ability to communicate weather impacts unique to each client. Additionally, we offer a unique training program customized for each client and excellent support for any questions.

Trust the weather name you know best: AccuWeather