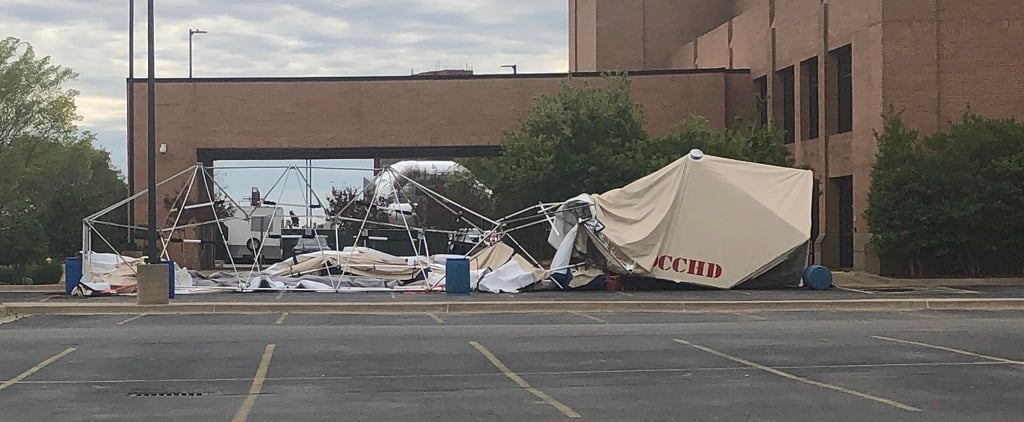 Triage tents and other temporary outdoor structures are being built to help battle Covid-19. These structures are extremely vulnerable to several types of severe weather. At AccuWeather, we want to ensure your staff and patient population are protected from weather impacts in order to keep a challenging situation from becoming even worse.
Simply complete the form and we'll provide our forecasting and site-specific services free of charge and obligation for three months.
We'll provide you with the most accurate and actionable severe weather alerts for your locations so that you can make decisions that enhance safety and reduce risk.
Thank you for all you're doing to take care of our communities and combat this pandemic.
Our support will include
Site-specific SkyGuard warnings with start and end times for specific weather risks so you can make the best decisions regarding evacuations and other actions that may be necessary to maintain health and safety
Alerts for lightning within 8 miles of your asset, with a goal of 20 minutes' advance notice
High Wind Warnings for wind gusts of 40 mph or greater
Flash Flood Warnings when excessive rainfall is occurring or had occurred
Tornado Warnings for tornadoes expected to move within 3 miles of your asset
Severe Thunderstorm and Tornado Watches to alert you to an increased risk for severe thunderstorms and tornadoes in the coming hours
Complimentary mobile app use. Receive warnings and monitor live radar and many other helpful weather insights for situational awareness
AccuWeather High Impact Weather Briefing emails highlighting risks for impactful weather in the coming days
SkyGuard Warnings
Site-specific alerts offer advance warning of severe and winter weather impacts. Warnings are front and center so you can quickly reference your asset in relation to the threat.
Warnings in order of severity
Address the most threatening weather first with warnings listed in order of severity. We help ensure your response to threats pertinent to your staff and business is lightning-fast.
Push notifications & procedures
One-tap access to alert details, including the start and end time of each event + meteorologist comments, custom emergency procedures, warning expiration times and more.
Proximity Lightning Notifications
Exclusive to the app, proximity lightning notifications are customizable and based on your device's current GPS location to aid in rapid decision-making. Choose your desired radius and frequency.
Customizable Map Layer View
Toggle the layers that matter to you at the flip of a switch. You can choose from layers including local radar, lightning, storm reports, public warnings, storm paths, wind and tropical/hurricane paths.
Enhanced Map Inspect Feature
A user-friendly display with animated, rapid-update radar allows you to deep dive into weather events. Assess potential impacts on the locations you care about, including lightning strike information.